We are proud to bring to Mississippi a totally modern facility that we hope will fulfill all your firearm needs.
Our 3,000 sq. ft. showroom boasts a wide selection of new and pre-owned firearms, ammunition, optics, silencers and shooting accessories. Our 11 lane indoor range features the latest in fresh air ventilation for your safety and shooting comfort. We are the first in the state to offer the FIREARMS TRAINING SYSTEM (FATS) which has over 250 situational scenarios allowing you to train and practice in a virtual classroom setting. The FATS system will put you in real life high pressure shoot – no shoot situations.
We hope you will visit us soon and allow our friendly staff to show you all we have to offer.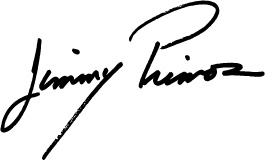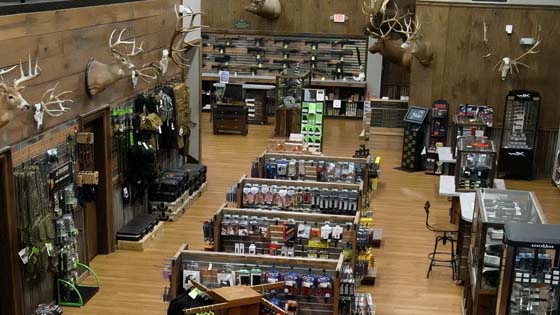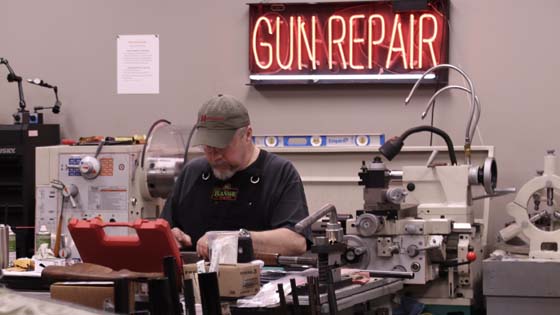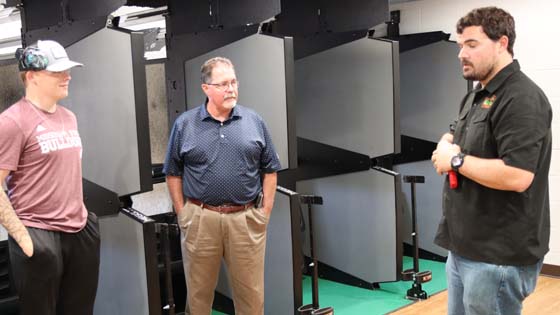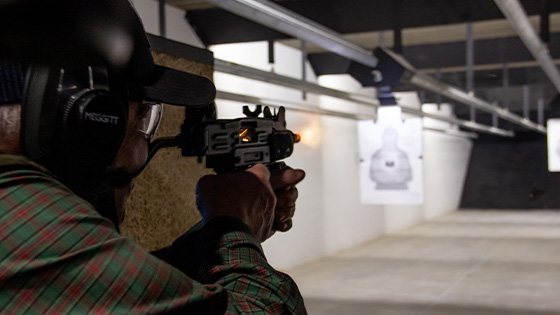 Offering you a wide selection of firearms, ammunition, accessories, knives, optics, and so much more.  With one of the largest selection of consignment firearms and items sure to meet your needs.
We have a full-time, in-house gunsmithing department that offers everything from basic firearms cleaning to barrel threading, to custom rifle building.
We have USCCA and NRA Certified Instructors that offer personal instruction, group, corporate, and highly specialized training.
Our Indoor Range offers 11, 75ft. lanes featuring the Meggitt Automatic Retrieval System.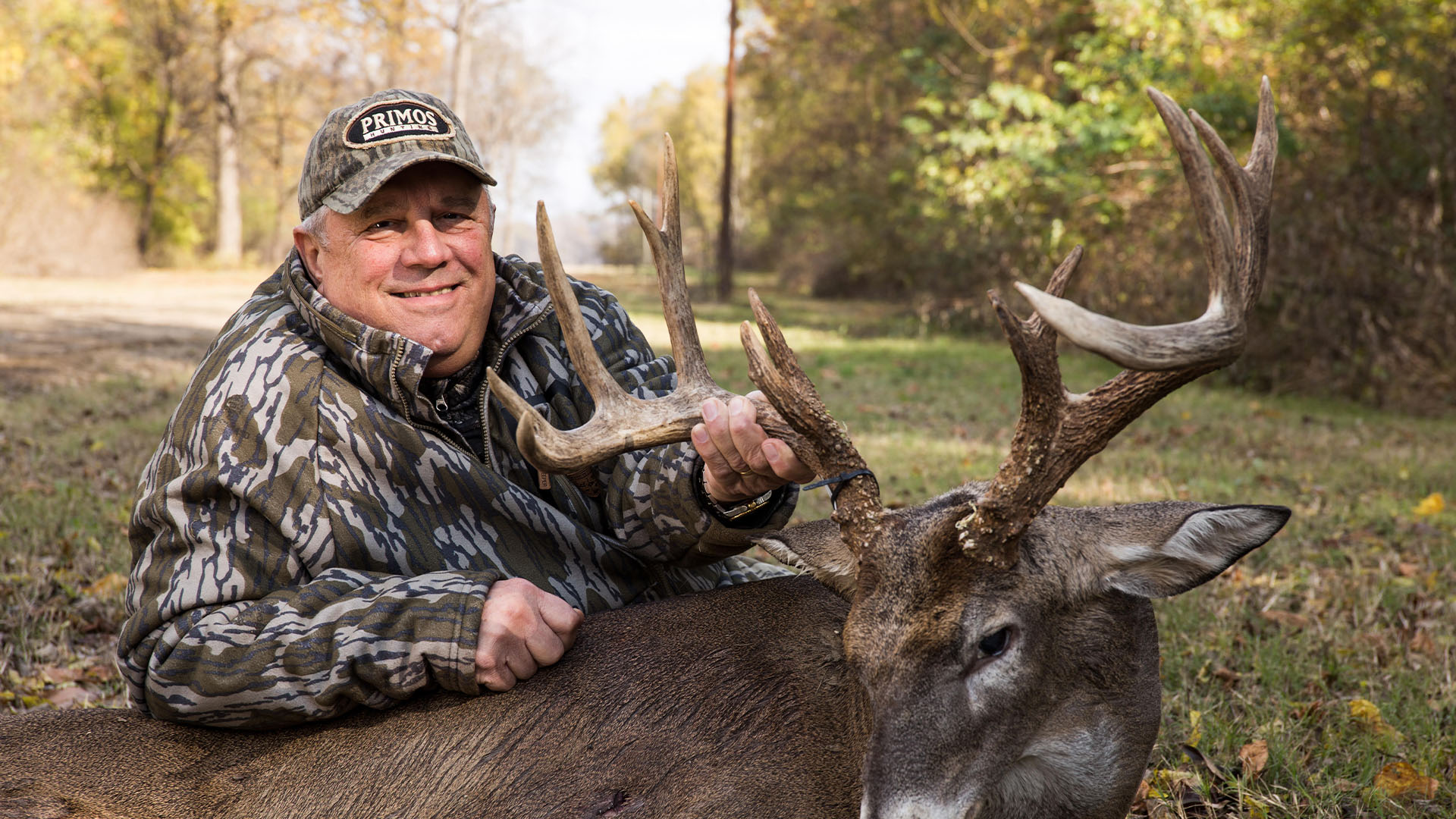 JIMMY PRIMOS
Managing Partner
After graduating from Ole Miss, serving as a Marine Corps officer in Vietnam, and working as a business executive in New York, Jimmy Primos returned to his home state of Mississippi, joining his cousin Will to help him run Primos Hunting.  Jimmy's love of hunting has taken him from Canada to South Africa and many points in between, but he always comes back to the familiar bayous and hardwood bottomland close to home.  Besides his regular appearances on Outdoor Channel's Primos TRUTH about Hunting, Jimmy travels widely for outdoors shows and other industry events.  He serves on the boards of the Archery Trade Association and the Council to Advance Hunting and the Shooting Sports.  Jimmy also enjoys working with veterans and Wounded Warrior groups, as well as introducing young people to the sport that has meant so much to him.
Mississippi Gun Works Joins the Range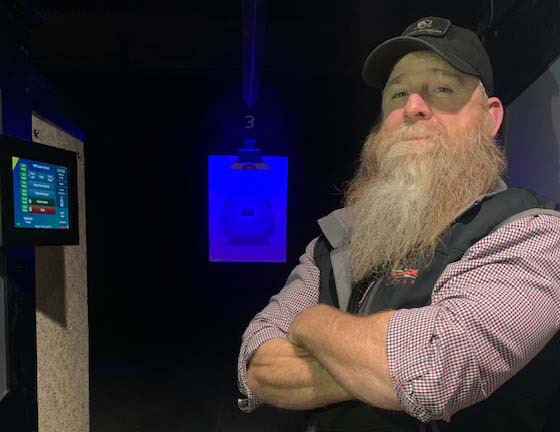 LAYNE MAGEE
Asst. Gen Manager
A lifelong native of Mississippi, and all-around sportsman, Layne was given his first shotgun at age 10 and has been hunting ever since. He started a company in 2011 that grew into Mississippi Gun Works, now an integral part of The Range.
Complimenting his broad knowledge of the firearms business from retail to gunsmithing is his NRA and USCCA certifications in firearms instruction. Layne is also member of The Range team who will be active in teaching all levels of classes in the safety and proper use of firearms.
His down time is spent coaching softball with his two daughters and of course… in the woods.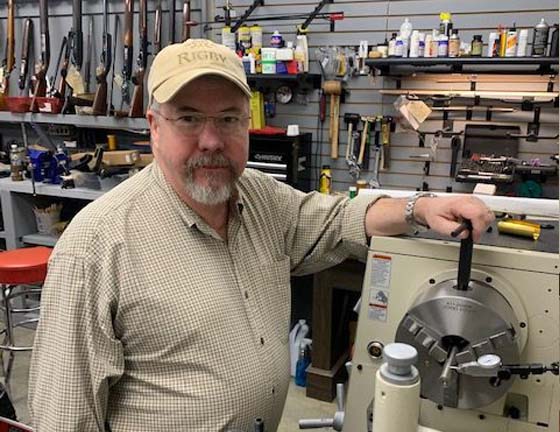 KEITH "TATER" TATUM
Senior Gunsmith
Tater was born on the naval air base in Guantanamo Bay, Cuba. He lived overseas until his dad decided it was time to move home…back to Walnut Grove, MS. As a 10 year old in small town Mississippi he was able to run to the woods every day, hunting and fishing…what a dream.
It would not be long before the little boy grew up and began cleaning the locals guns for extra money. His attention to detail landed him a job as a graphic artist; however, he continued to cultivate his gunsmithing skills repairing guns for friends and neighbors.
After 30 years, Tater decided to take the plunge and become a full-time gunsmith/machinist. He has trained in his craft at the Trinidad State Gunsmithing School in Colorado.
With Tater at the helm, The Range's fully-equipped gunsmithing services include custom/precision rifle building, re-barreling, action truing, and blue printing, stock bedding/fitting, barrel threading, as well as other customer requests. Shotgun work includes opening forcing cones, stock fitting and tactical upgrades.
Trigger jobs, action truing, and overall performance enhancements can be performed on pistols and revolvers.
Stock repair and refinishing, case hardening, and bluing…including rust blue round out his abilities. Tater can also custom-make otherwise unavailable gun parts where practical.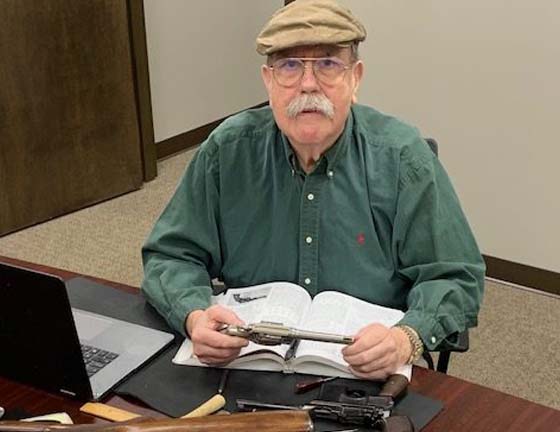 KEN OILSCHLAGER
Firearms Appraiser
A Meridian native and graduate of Ole Miss, Ken's interest in firearms came at an early age. He was shooting turtles at age 6 and acquired his first vintage rifle …a trapdoor Springfield …when he was in the 4th grade. With limited funds in his early years, he continued his interest in vintage guns by amassing a collection of catalogs from companies dealing in antique and collectable firearms.
Over the years, Ken evolved into an avid collector and hunter. The early interest in just about anything gun-related helped him accumulate the knowledge to become a firearms appraiser and have a knack for finding parts for just about anything that shoots….vintage to modern.
He is a life member and past Treasurer of the German Gun Collectors Association and is an American Gunsmithing Institute Certified Firearms Appraiser.
The Range can provide complete firearm appraisal services for your collection from insurance purposes to estate valuations.
Please check with your insurance agent as most homeowner policies only cover a fraction of the value of a gun collection. Your carrier may require an additional coverage schedule for your firearms, as well as an appraisal, and when settling an estate or selling your personal collection, you need to know the current value.
A recent example is a U.S. Army Model 1911 pistol Ken appraised for a widow who wanted to dispose of her deceased husband's small gun collection. Several friends of the family wanted to purchase the Model 1911 pistol and it was suggested its value was around $200-$300 Bottom line…Ken's appraised value of the Model 1911 pistol was $2,000 and it was sold to a private collector the next week!